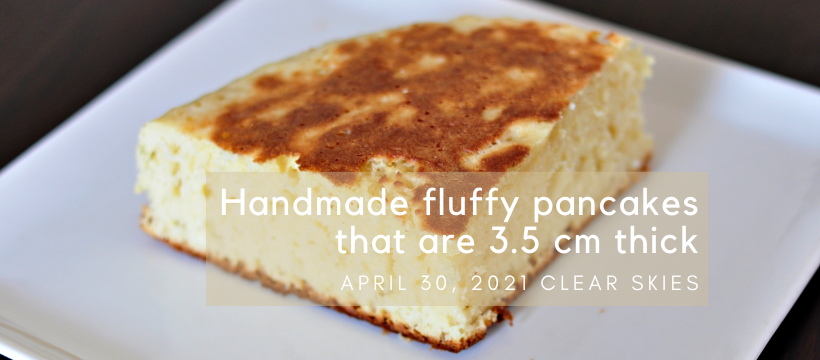 Handmade fluffy pancakes that are 3.5cm thick
My son, who loves to make sweets, baked pancakes for my wife and me. He wanted to make fluffy, tall pancakes instead of the common pancakes.
He whisked the egg whites to make a meringue, then whisked the egg yolks and milk, and quickly mixed them with the flour to make a batter.
In a deep frying pan over the fire, he poured the batter into the mold so that it is thick, and steamed it slowly over low heat.
When I measured the finished pancake with a ruler, it was three centimeters and five millimeters thick! It was a very thick pancake with a fluffy inside.
A fluffy souffle-type pancake that was actually born in Japan
Japanese Pancakes, also known as Japanese souffle pancakes, are a deliciously light and fluffy version of traditional American pancakes. Made with the same ingredients as the pancakes you're familiar with, this souffle pancake recipe only requires folding whipped egg whites into the pancake batter to make them extra fluffy. Pastry rings are used to mold the pancakes to give them a fluffy and towering look.